Letter from Africa: Economic affairs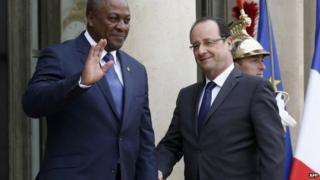 In our series of letters from African journalists, Ghanaian writer Elizabeth Ohene, a former government minister and member of the opposition, considers the ways politicians can get everyone's undivided attention.
I have been following the media coverage of two presidents over the past few weeks.
John Dramani Mahama, because he is president of Ghana and I have no choice but to try and follow how he is faring, and President Francois Hollande of France, because if the truth be told, there are some juicy stories circulating about him and I could not resist following how he was faring.
Our President John Mahama was marking his first anniversary in office on 7 January.
Having earlier employed a driving metaphor to describe his performance during his first year of office by stating that he had been in "first gear", the expectation was that he was going to tell us how he would get the vehicle into fourth or fifth gear.
In other words he was going to show us just how fast he was going to move the country forward.
The French president had billed his traditional New Year press event as the occasion to announce big changes in economic management.
Mr Hollande had, by every estimation, had a difficult year.
Nothing new or dramatic happened to force President Mahama to change his well-laid out plans for the 7 January event.
Hot event
Ghana's president could address himself to the issues that were occupying his compatriots: Difficult living conditions; high utility prices; very loud noises over reports of corruption in high places and a brother who allegedly owed a lot of money to a state-owned bank.
At the press conference, Mr Mahama spoke smoothly, it sounded practised and there were no hitches.
Dare I say it, I am afraid it all left me underwhelmed.
President Hollande's well-laid out plans, however, were dramatically disrupted with the publication of the details of an alleged affair he was having with an actress.
Suddenly his press conference became the hottest event across the globe; every news outlet had to carry it live.
Of course everybody had to pretend that they had no interest in the matter of the affair and to do this successfully, they had to comment intelligently on the economic issues that President Hollande said he wanted to address.
I doubt that any speech on the French economy has received as much attention as the recent Hollande one.
I suspect that President Mahama himself felt that he had not made much of an impact with his press conference because a week later, there he was, telling a visitor to his office that members of his government and party have been trying to get him to sack his finance minister.
For Ghanaians, this measured fairly high on the "guaranteed-to-grab-your-interest" scale.
It could be that President Mahama thought that by telling us he was under pressure to sack his finance minister, it would concentrate our minds on what he had said about the economy.
Yet I am not so sure.
It is Monsieur Hollande who has shown us the way.
To really get the whole country to pay attention to a change of direction in economic management, you have to spice it up with a breaking story about a presidential affair.
I am keeping my ears wide open.
If you would like to comment on Elizabeth Ohene's column, please do so below.