Mali's Red Cross fears for missing staff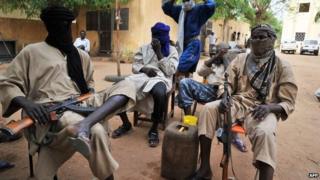 The Red Cross in Mali says it has suspended the movement of its staff in the northern desert region because some of its workers have gone missing.
Four staff members and another aid worker disappeared while travelling in a 4x4 vehicle from Kidal to Gao on Saturday.
A representative from the Mujao Islamist militant group told the AFP news agency it had kidnapped them.
Mujao was among the militant groups ousted from northern towns a year ago.
France led the military intervention but al-Qaeda-linked insurgent attacks have continued in Mali's vast northern region.
Mujao official Yoro Abdoulsalam told AFP on Tuesday that it had seized a 4x4 vehicle and those aboard were "alive and in good health".
Wolde-Gabriel Saugeron, the International Committee of the Red Cross (ICRC) spokesman for North and West Africa, said the ICRC was unable to confirm whether its team had been seized.
He told the BBC's Focus on Africa programme that all efforts were being made to locate the five humanitarian workers, who are all Malian citizens.
Mujao, which is an offshoot of al-Qaeda in the Islamic Maghreb, controlled the town of Gao between April 2012 and January 2013.
Mali descended into chaos two years ago when soldiers launched a coup angered that not enough was being done to help them crush a Tuareg-led rebellion in the north.
This allowed Islamist militants to take over territory which they held for nearly a year until French and West African forces intervened.