Central African Republic clashes 'kills at least 18'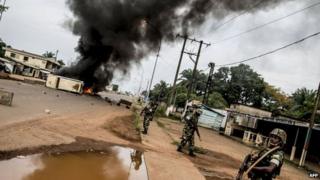 At least 18 people have been killed in clashes between Christians and Muslims in the Central African Republic, a peacekeeper and witnesses have said.
Seventeen of the deaths occurred when a mainly Christian militia attacked a village in the north-west, they added.
One witness told Reuters news agency that he had counted 22 bodies, some of them chopped into pieces.
Some 7,000 peacekeepers are battling to end the conflict which has displaced about 25% of the population.
Violence broke out in March 2013 after the Seleka rebel group - led by a Muslim, Michel Djotodia - seized power in the majority Christian country.
Mr Djotodia stepped down under international pressure in January, but fighting has continued.
A peacekeeper said gunmen claiming to represent the mainly Christian anti-balaka militia attacked a village outside Bambari, a town 380km (236 miles) north-west of the capital, Bangui, on Monday, AFP news agency reports.
"Some of the bodies were mutilated and burnt by the assailants," the unidentified peacekeeper said.
A witness, Ibrahim Alawad, said he saw bodies with "hearts cut out" at the mortuary in Bambari, Reuters reports.
In reprisal attacks, 10 anti-balaka fighters were killed, he said.
CAR's religious make-up
Christians - 50%
Muslims - 15%
Indigenous beliefs - 35%
Source: Index Mundi
An anti-balaka official, Brice-Emotion Namsio, told AFP the group was not responsible for the attack on the village.
"Out-of-control youths" unleashed the violence, he said.
The African Union, France and the European Union have peacekeepers in CAR, a former French colony.
The new president, Catherine Samba-Panza, has asked the International Criminal Court to investigate the violence.