TB Joshua Lagos church collapse: MDC's Greenwich Ndanga killed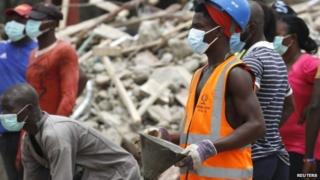 A Zimbabwean opposition politician is among at least 80 people who died when a church hostel in the Nigerian city of Lagos collapsed a week ago.
Greenwich Ndanga was the Movement for Democratic Change (MDC) provincial chairman for Mashonaland West.
Most of the victims were South Africans who were staying in the multi-storey guesthouse belonging to the church of popular TV evangelist TB Joshua.
The authorities say it it had more floors than its foundation could hold.
More than 130 people survived, including one South African woman who was pulled from the rubble on Monday - three days after the building collapsed.
Mr Ndanga's death was confirmed by his family and party officials on Thursday.
MDC spokesman Douglas Mwonzora said he was a pastor and had gone to Nigeria on church business, Zimbabwe's state-run Herald newspaper reports.
According to the private Zimbabwean paper Newsday, several other Zimbabweans were visiting the Synagogue, Church of All Nations (SCOAN) at the time and escaped unhurt.
MDC leader Morgan Tsvangirai, a rival of Zimbabwean President Robert Mugabe, is a known follower of Mr Joshua, who is a founder of the the SCOAN church ministry and referred to as the "prophet".
On Wednesday, South Africa's president said 67 South Africans had died in the collapse.
A rescue team from South Africa is now in Nigeria trying to help locate missing South Africans.
---
TB Joshua
Founded Synagogue, Church of All Nations in the 1990s
Runs Christian television station Emmanuel TV
The ministry professes to heal all manner of illnesses
Controversially this includes HIV/Aids
Known as the "Prophet" by his followers
Tours Africa, the US, the UK and South America
Profile: Nigerian preacher TB Joshua
In pictures: TB Joshua's ministry in 2005
---
The Nigerian Emergency Management Agency (Nema) says its emergency workers were at first prevented from participating in the rescue.
Nema spokesman Ibrahim Farinloye told the Associated Press news agency that despite arriving on the scene just over an hour after the collapse at 13.50 local time (12.50 GMT) on Friday, they were not given full access to the site until 17:00 on Sunday.
Such accusations have been denied by the church.
Earlier, Mr Joshua said a small plane had been circling over the building before it collapsed, and suggested it was an attempt on his life.