Emotional day at Pistorius sentencing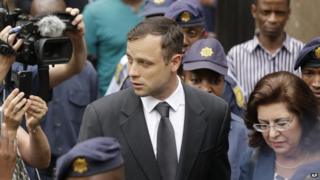 For what feels like the first time in this long legal process, the Steenkamp family took centre stage in courtroom D on Wednesday, and we got a powerful sense of the grief, confusion, health, financial worries and behind-the-scenes negotiations that have preoccupied them over the past 18 months.
On Tuesday, Reeva Steenkamp's mother, June, had been quoted in court by prosecutor Gerrie Nel as bitterly rejecting an offer of 375,000 rand ($34,000,£21,000) recently made by Oscar Pistorius as "blood money".
But on Wednesday the Steenkamps' lawyers issued a statement that seemed to backtrack from that position, explaining that it was the lawyers themselves who had reached out to Pistorius about a possible lump-sum settlement.
The Steenkamps declined the subsequent offer and - having earned significant sums from their own media interviews about their daughter's death - declared that the entire issue of compensation was no longer on the table.
'Famous new boyfriend'
Then Reeva's cousin, Kim Martin, took the stand - the first witness for the prosecution as it sought to convince Judge Masipa that Pistorius deserves a lengthy prison sentence for culpable homicide.
In brisk, eloquent style, Mrs Martin described Reeva Steenkamp's childhood, her family's financial struggles, her education, modelling career, boyfriends, pets, ambitions and desire to have children.
Until then, Ms Steenkamp had only ever been mentioned in court in the context of her relationship with Pistorius.
Mrs Martin met her cousin's "famous" new boyfriend only briefly, and found him shy and likeable, but wondered later about a comment - I'm happy "but we need to talk" - that Reeva Steenkamp had made to her.
Mrs Martin then became more emotional - so did Barry Steenkamp, who slumped forwards, sobbing - as she spoke about the devastating impact of the killing on a "very, very close family".
Such impact statements are not uncommon in South African courts. Judge Masipa appeared to listen closely.
On Thursday the prosecution will call one, or possibly two more witnesses. One will be a correctional services official who is likely to challenge the defence's argument that Oscar Pistorius should not be given a prison sentence.