Burkina Faso's Isaac Zida dismisses African Union intervention
7 November 2014

From the section

Africa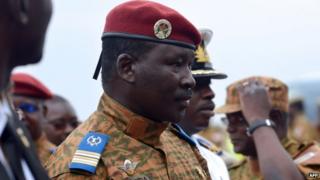 Burkina Faso's interim leader has dismissed the African Union's (AU) imposition of a two-week deadline to hand power to civilians.
However the AU says the deadline stands and has threatened sanctions if it is ignored. In response Lt Col Isaac Zida said, "we are not afraid of sanctions."
The military agreed to hold elections next year but not on an interim leader.
It took power after President Blaise Compaore was forced to quit last week amid mass protests.
Following talks with opposition parties and civil society, Col Zida said the military "care[s] much more about stability" than the AU's threats.
The AU's deputy chairperson, Erastus Mwencha, told the BBC that the military was taking advantage of the indecision amongst Burkina Faso's political parties about who should be the interim leader.
Mr Mwencha added that the parties should "try to reach consensus for the sake of the country".
He said that if the AU was forced to impose sanctions on the military, the first would be to suspend Burkina Faso's membership to the union.
The West African regional body Ecowas said on Thursday that the international community should refrain from imposing its own sanctions on the country.
Ecowas has appointed Senegalese President Macky Sall to lead its mediation efforts in Burkina Faso.
He was one of three leaders who travelled to the capital, Ouagadougou, on Wednesday for the talks, which led to the one-year transition agreement.
The talks are continuing as the various parties attempt to reach an agreement on a civilian interim leader.
Some opposition parties do not want Mr Compaore's former governing party to be involved in the discussions.
Col Zida has agreed to hand over power to civilians but late on Thursday said he was not concerned by the African Union deadline.
"We have waited on the African Union in moments when it should have shown its fraternity and its friendship but instead was not there," he said.
"It's unfortunate but it's not too late."
Sanctions danger
Ghana's President John Dramani Mahama has said he thought the threat of sanctions would be avoided.
"I am certain that we will not reach the stage where the international community will have to impose sanctions," the AP news agency quotes him as saying.
AU sanctions could also include a travel ban on military officials. The AU's Peace and Security Council is expected to meet again later this month to discuss the crisis.
Under Burkina Faso's constitution, the head of the National Assembly should take office if the president resigns.
However, Col Zida was previously second in command of the presidential guard.
Mr Compaore first seized power in a coup in 1987, and went on to win four disputed elections.
The protests were triggered by his plan to amend the constitution so that he could run for office again in elections next year.
After resigning, Mr Compaore fled to neighbouring Ivory Coast.