Nigeria army helicopter crashes in Yola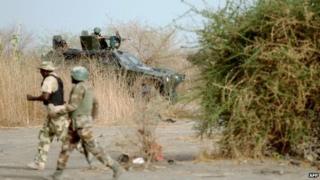 A Nigerian army helicopter has come down in the north-east, where the army is battling Islamist Boko Haram fighters, the second crash this week.
It crashed on the outskirts of Yola city in Adamawa State, killing all three crew members, the military said.
University students said they heard it come down next to their campus, followed by a series of explosions.
The BBC's Will Ross says it was believed to have been transporting weapons and ammunition to troops.
Students at the Modibbo Adama University of Technology on the edge of Yola city said that on hearing the blasts some people started running away fearing that jihadists were attacking.
Weapons complaints
Earlier this week, the Nigerian government complained that the US was blocking its attempts to buy "lethal equipment" to put down the insurgency.
Nigeria's ambassador to the US said accusations that its troops were involved in human rights abuses were based on "half-truths" being spread by political opponents ahead of elections next year.
In response, the US state department spokesperson said the two nations were sharing intelligence, the US was training a Nigerian battalion and that the sale of some equipment had been allowed over the past six months.
But the spokesperson, Jen Psaki, did admit that earlier this year the sale of military helicopters had been stopped.
---
Who are Boko Haram?
Founded in 2002
Initially focused on opposing Western education - Boko Haram means "Western education is forbidden" in the Hausa language
Launched military operations in 2009 to create Islamic state
Thousands killed, mostly in north-eastern Nigeria - also attacked police and UN headquarters in capital, Abuja
Some three million people affected
Declared terrorist group by US in 2013
---
"We denied the transfer of some Cobra attack helicopters to Nigeria due to concerns about Nigeria's ability to use and maintain this type of helicopter in its effort against Boko Haram and ongoing concerns about the Nigerian military's protection of civilians when conducting military operations," she said on Wednesday.
Meanwhile, there are reports that the key town of Mubi, north of Yola, is no longer in the hands of Boko Haram after soldiers and a local defence force, including hunters, took it back.
But our correspondent says the north of Adamawa - one of three states under emergency rule because of the insurgency - is still extremely volatile and people have been fleeing two other towns which the militants have been trying to capture.
Boko Haram - which says it is fighting to create an Islamic state - has changed tactics in recent months by holding on to territory rather than launching hit-and-run attacks which have killed thousands of people.
The group promotes a version of Islam which forbids Muslims from taking part in any political or social activity associated with Western society.
In April, the militants captured more than 200 girls from a boarding school in the town of Chibok in Borno state.
Despite international military assistance the girls have not yet been rescued.