Laurent Gbagbo ICC: Ivory Coast ex-leader's trial date set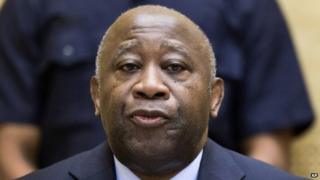 The former President of Ivory Coast, Laurent Gbagbo, will go on trial for crimes against humanity on 7 July next year, the Hague-based International Criminal Court (ICC) says.
Mr Gbagbo faces charges of murder, rape, attempted murder and persecution.
Some 3,000 people were killed in a civil conflict after Mr Gbagbo refused to accept defeat in a 2010 election.
The 69-year-old - the first former head of state to appear at the ICC - has insisted he is innocent.
He accuses the former colonial power, France, of engineering a plot to drive him from office in favour of his rival, Alassane Ouattara.
His remaining supporters in Ivory Coast have denounced his trial as "victor's justice".
Mr Gbagbo was Ivory Coast's president from 2000 until April 2011, when he was arrested by forces loyal to President Ouattara, backed by French troops.
Mr Gbagbo's ally, former minister Charles Ble Goude, appeared at the ICC earlier this year on charges of committing crimes against humanity.
Mr Ble Goude also denies the allegations against him - including the charge that he led a militia.
According to the AFP news agency, the ICC is considering whether to merge the two trials into one.
Mr Gbagbo is the first former head of state to be detained by the ICC, although Slobodan Milosevic of Yugoslavia and Liberia's Charles Taylor were tried by special courts in The Hague.