Zimbabwe's Mugabe names Mnangagwa as vice-president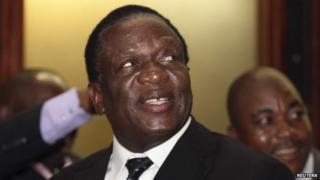 Zimbabwe's President Robert Mugabe has appointed Emmerson Mnangagwa as his deputy, making the former justice minister the favourite to succeed him.
Mr Mnangagwa takes over from Joice Mujuru who Mr Mugabe sacked after accusing her of plotting to kill him, an allegation she has denied.
Nicknamed "The Crocodile", Mr Mnangagwa is reputed to be a hardliner.
Mr Mugabe, 90, purged the government of seven ministers on Tuesday as he tightened his grip on power.
He was re-elected leader of the ruling Zanu-PF party at its congress at the weekend while his 49-year-old wife, Grace, was chosen to head its women's wing.
In his first comments since his elevation to the vice-presidency was announced, Mr Mnangagwa defended the purge.
"The revolution has a way of way of strengthening itself. It goes through cycles, this is another cycle where it rids itself of elements that had now become inconsistent with the correct line," he is quoted by AFP news agency as saying.
Mrs Mujuru, 59, was seen as Mr Mnangagwa's main rival in the battle to take over from Mr Mugabe when he retires or dies.
State media and Mrs Mugabe led the months-long campaign to oust her.
---
Analysis: Brian Hungwe, BBC Africa, Harare
Emmerson Mnangagwa, affectionately known as Ngwena, or crocodile, is the obvious heir apparent. The first lady, Grace Mugabe, fuelled rumours of a possible Mugabe dynasty after she stole the limelight in recent months, addressing public rallies in which she rubbished senior party officials.
It provoked intense speculation that the president wanted to anoint her, and keep power in the Mugabe family. But Mr Mnangagwa's appointment has dampened the speculation.
Should the president leave the picture, Mrs Mugabe will become politically ineffective and will only be respected in the party as the spouse of the founding father of independent Zimbabwe.
On state security issues, Mr Mnangagwa is Mr Mugabe's right-hand man and makes the president feel secure. He looks up to Mr Mugabe, kneeling before him each time he presents official documents. It speaks of a father-son relationship.
---
Mr Mugabe appointed diplomat Phelekezela Mphoko as his second vice-president, but he is not a Zanu-PF heavyweight, correspondents say.
Mr Mnangagwa served Mr Mugabe before and during the 1970s guerrilla war against white-minority rule, and has been a member of every administration since independence from Britain in 1980.
He has been minister of state security, defence and finance, as well as the speaker of parliament.
Mr Mugabe, who has been in power since Zimbabwe's independence in 1980, is due to stand for election again in 2018.
The ministers whose sacking was announced on Tuesday included State Security Minister Didymus Mutasa - another long-time ally of Mr Mugabe - and Energy Minister Dzikamai Mavhaire, who was seen as close to Mrs Mujuru.
There is no word on their replacements yet.