ICC charges against Uhuru Kenyatta defended by Ocampo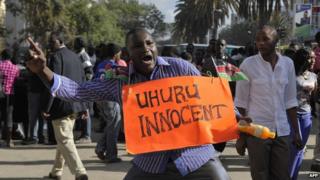 The ex-chief prosecutor of the International Criminal Court (ICC) has defended his decision to charge Kenya's president, despite the case collapsing.
Luis Moreno Ocampo said the charges against Uhuru Kenyatta prevented violence in the 2013 elections.
Mr Kenyatta won the poll after campaigning on a nationalist ticket, accusing the ICC of meddling in Kenya's affairs.
He had been charged with fuelling violence in the 2007 election.
Last week, Mr Ocampo's successor, Fatou Bensouda, dropped the charges against Mr Kenyatta, saying there was a lack of evidence as the Kenyan government had refused to hand over documents vital to the case.
Mr Kenyatta denied the charge of crimes against humanity.
He was the first head of state to appear before judges at the ICC.
Some 1,200 people died and 600,000 fled homes in the conflict - the worst in Kenya since independence.
'UN powerless'
Mr Ocampo told BBC Newsday that Mr Kenyatta's indictment had created a "deterrence", ensuring that the violence of the 2007 election was not repeated in the 2013 election.
"ICC changed the game," he said.
Last week, Uganda's President Yoweri reiterated calls on African states to pull out of the ICC, saying the continent was unfairly targeted by the court.
Rejecting the criticism, Mr Ocampo said the ICC was a "problem" for about 10 African leaders who relied on violence to remain in power.
He also defended the ICC's decision to charge Sudan's President Omar al-Bashir with genocide over the conflict in Darfur.
Ms Bensouda ended that investigation last week blaming lack of action by the UN.
Mr Bashir was charged after the UN Security Council referred the conflict to the ICC for investigation, following allegations by UN and US officials that Sudanese government forces were committing "genocide" in Darfur.
Mr Ocampo said the ICC did not have the power to arrest Mr Bashir and put him on trial.
The UN Security Council had to "act" against the Sudanese leader, but the problem was that it no longer had the "power" to do so, Mr Ocampo said.
China is an ally of Sudan in the UN Security Council, and is bound to veto any action against him, correspondents say.
The African Union also called on its members not to arrest Mr Bashir, saying he enjoyed presidential immunity - a view the ICC rejects.
Sudan does not recognise the ICC's jurisdiction, unlike Kenya.
Kenya's government has denied that it has failed to co-operate with the ICC prosecutor.
The trial of Mr Kenyatta's deputy, William Ruto, is ongoing at The Hague.
They were on opposing sides during the 2007 election but subsequently formed an alliance to win elections last year.