Nigeria's Boko Haram: Goodluck Jonathan visits refugees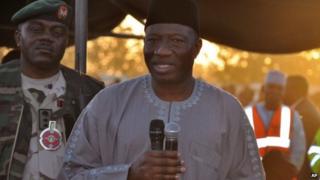 President Goodluck Jonathan has made a surprise visit to north-east Nigeria, in the aftermath of mass killings by Boko Haram Islamist militants.
Mr Jonathan told some of the 5,000 refugees who fled last-week's violence: "I want to assure you that you will soon go back to your houses."
It was his first visit to the north-east since March 2013.
Critics have accused the president of ignoring the victims of Boko Haram's violence in the region.
He cancelled a trip to the region last year.
'Wiped off' towns
During Thursday's visit to Maiduguri, the capital of Borno State, the president told more than 900 displaced people that he was "working very hard" to ensure that they could return.
He pledged that "all the areas under the control of Boko Haram will soon be recaptured".
President Jonathan's visit came as the UK-based human rights group Amnesty International released satellite images of towns attacked by Boko Haram, suggesting widespread destruction and a high death toll.
The pictures show some 3,700 structures damaged or destroyed in Baga and neighbouring Doron Baga last week, the human-rights group said.
Amnesty's before and after satellite images were taken on 2 January and 7 January. Healthy vegetation is shown in red on the graphics.
Nigeria's government has disputed reports that as many as 2,000 were killed, putting the toll at just 150.
The BBC's Will Ross says that while the images show the destructive nature of Boko Haram, they do not help establish just how many people were killed.
Amnesty cited witnesses saying that militants had killed indiscriminately.
"These detailed images show devastation of catastrophic proportions in two towns, one of which was almost wiped off the map in the space of four days," Daniel Eyre, an Amnesty researcher, said in a statement.
"It represents a deliberate attack on civilians whose homes, clinics and schools are now burnt out ruins," he said.
There has been a surge in violence linked to Boko Haram. In the past week there have also been several attacks, including by suspected child suicide bombers.
Nigeria is to hold elections next month, amid growing doubts whether they can successfully go ahead in all parts of the country.
---
Boko Haram's capture of Baga
03 January: Social media reports of Baga attack first emerge
04 January: Boko Haram claims to have captured Baga
08 January: Reports emerge of bodies strewn on the streets in Baga, with some saying 2,000 people killed
12 January: The government says that the number of people who lost their lives in Baga was no more than 150, including militants
15 January: Satellite images released by Amnesty International suggest the number of dead is far higher than officially admitted
---
Officials said militants had attacked Baga on 7 January, four days after overrunning a multinational military base in the town that had been abandoned by Nigerian troops.
Amnesty's Adotei Akwei told the BBC that although it was still difficult to access the area where the attack took place, the Nigerian government was "grossly understating" the death toll.
"They killed so many people," one man told the group. "I saw maybe around 100 killed at that time in Baga. I ran to the bush. As we were running, they were shooting and killing."
---
Boko Haram at a glance
Founded in 2002
Initially focused on opposing Western education - Boko Haram means "Western education is forbidden" in the Hausa language
Launched military operations in 2009 to create Islamic state
Thousands killed, mostly in north-eastern Nigeria - also attacked police and UN headquarters in capital, Abuja
Some three million people affected
Declared terrorist group by US in 2013
Why Nigeria has not defeated Boko Haram
---
One witness was quoted as saying that victims included small children and a woman in labour.
Afterwards, militants drove into the surrounding country, rounding up women, children and the elderly, unnamed witnesses told the group.
"Boko Haram took around 300 women and kept us in a school in Baga," one woman, who Amnesty said had been held for four days, was quoted as saying.
"They released the older women, mothers and most of the children after four days but are still keeping the younger women."