Nigeria's Boko Haram unrest: African leaders urged to act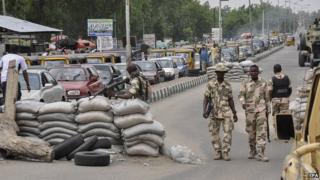 African states should act quickly and collectively to curb the growing threat posed by Nigeria's militant Islamists, the African Union chief has said.
Cross-border raids into Cameroon showed the dangers the Boko Haram group posed, Nkosazana Dlamini-Zuma said.
Nigeria has rejected AU or UN intervention, saying regional armies are capable of dealing with the threat.
Its troops repelled a new attack by Boko Haram on the key north-eastern city of Maiduguri on Sunday night.
Boko Haram launched a full-scale insurgency in north-eastern Nigeria in 2009 to create an Islamic state.
In an address to African foreign ministers at the AU headquarters in the Ethiopian capital Addis Ababa, Ms Dlamini-Zuma said recent attacks by Boko Haram were deeply horrifying.
AU heads of state had agreed to include the conflict on the agenda of their summit, due to begin on Friday, she said.
Correspondents say Boko Haram and Somalia's militant Islamist group al-Shabab will now dominate the summit, which was supposed to focus on women's empowerment and development.
US Secretary of State John Kerry arrived in Nigeria on Sunday to call for peaceful elections next month.
Boko Haram seized the north-eastern Nigerian town of Monguno on Sunday, raising further doubts about whether elections could be held across the country on 14 February.
It controls many towns and villages in the north-eastern Borno state and Maiduguri, the state capital, is seen as a prized scalp for the group.
The conflict has caused a humanitarian crisis affecting some three million people, Nigerian officials say.
---
Tomi Oladipo, BBC Africa security correspondent
Capturing Maiduguri would be Boko Haram's most significant achievement yet, taking the largest city in north-east Nigeria and returning to the place where it began a full-scale insurrection in 2009.
It is also a battle the Nigerian military cannot afford to lose. Boko Haram has been inching across Borno state and even if its fighters are repelled now, another audacious attack is inevitable, considering much of the area around Maiduguri is already under its control.
The army has been working to defend its major cities from Boko Haram raids but Nigerians would expect their soldiers to also be reclaiming the towns seized by the insurgents, which we have not really seen so far
---
In an interview with the BBC Hausa service, Borno state governor Kashim Shettima called on people not to panic.
"This is our land. No fear, no flight, no retreat. We should not flee. We have a history dating back 1,000 years and I swear by Allah we are going to beat [Boko Haram]," he said.
A 24-hour curfew imposed on Sunday in Maiduguri has been relaxed and some businesses reopened on Monday.
Government troops beat back Boko Haram fighters who had launched an assault on the city on Sunday night - the second in less than 24 hours, an army source told the BBC.
Both attacks were in the Jimtilo district.
Loud explosions were heard in the city, a resident told the BBC Hausa service.
'Houses on fire'
A medical source said the four biggest hospitals in Maiduguri were overwhelmed with casualties.
Some relatives took away corpses that lay at the entrance of the Maiduguri General Hospital, he told the BBC.
Children as young as four years were among those who had been treated for bullet wounds, he added.
---
Boko Haram at a glance
Founded in 2002, initially focused on opposing Western-style education - Boko Haram means "Western education is forbidden" in the Hausa language
Launched military operations in 2009 to create Islamic state
Thousands killed, mostly in north-eastern Nigeria - has also attacked police and UN headquarters in capital, Abuja
Has abducted hundreds, including at least 200 schoolgirls
Controls several north-eastern towns
Has launched attacks on Cameroon
---
President Goodluck Jonathan visited Maiduguri on Saturday as part of his election campaign, his second visit in two weeks.
The army in Monguno, 140km (85 miles) north of Maiduguri, was reported to have been overwhelmed when Boko Haram attacked on Sunday, setting houses on fire.
A journalist in Maiduguri told the BBC that fleeing soldiers from Monguno had arrived at the barracks in Maiduguri.
Mr Kerry urged Mr Jonathan and the main opposition's presidential candidate, former military ruler Muhammadu Buhari, not to condone violence during what is expected to be a tense election campaign.
He said the US could do more to help against Boko Haram, as long as the elections passed off smoothly.
The US does not currently sell weapons to Nigeria's military because of its human rights record.
Last week, Nigeria's national security adviser Sambo Dasuki told the BBC that regional armies were in "good shape" to take on Boko Haram and so they did not need help from the UN or AU.
However, there have been many reports of government forces fleeing when Boko Haram fighters advance.
Some soldiers say they do not have enough weapons and working equipment to defend territory.
Chad, seen as having the most capable military in the region, sent a convoy of troops and 400 military vehicles to Cameroon earlier this month to battle Boko Haram.
Are you in Maiduguri? Have you been affected by recent events? You can email haveyoursay@bbc.co.uk with your experiences. Please include a telephone number if you are willing to be contacted by a BBC journalist.
Send your pictures and videos to yourpics@bbc.co.uk or text them to 61124 (UK) or +44 7624 800 100 (international). Or you can upload here.