UN base in Mali's Gao city hit by deadly clashes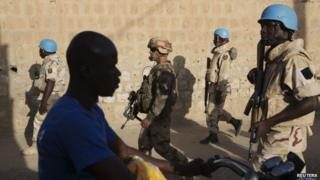 At least two people have been killed after UN forces tried to end a siege of their military base in the northern Malian city of Gao, government and hospital sources said.
Protesters attacked to show their opposition to reports of a UN plan to create a buffer zone in the region.
Northern Mali has been hit by conflict between government forces, Tuareg separatists and militant Islamists.
The UN has a 9,000-strong force in Mali to bolster the weak government.
The protesters claimed that a buffer zone in Gao region's Tabankort district would favour Tuareg separatists.
The area is presently controlled by pro-government militiamen who have clashed in recent weeks with separatist Tuareg rebels.
Protesters threw Molotov cocktails and rocks, wounding two UN officers at the base, UN spokesman Olivier Salgado said.
UN staff retaliated by firing tear gas and in the ensuing melee two people were killed and four others wounded, he said.
However, local radio journalist Aboubacrine Abouhayata and passerby Attouyoube Maiga told Associated Press news agency that UN officers fired live rounds of ammunition.
"Here in the morgue in Gao we have at least three dead protesters, some killed by gunshot wounds... There are also several serious injuries," a hospital official is quoted by AFP news agency as saying.
French forces handed control of security in northern Mali to the UN force after beating back al-Qaeda-linked militants and Tuareg separatists who has seized most of the region in 2012.