Darfur crisis: Russian pilots kidnapped in Sudan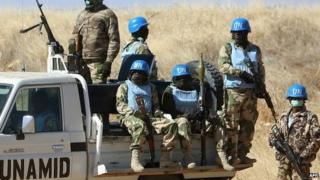 Two Russians working for UTair airline have been kidnapped in Sudan's Darfur region, Russian officials say.
UTair has a contract to fly aircraft for the joint UN-African Union peacekeeping mission in Darfur (Unamid) which has been in Darfur since 2007.
It said two of its employees had been taken in the town of Zalingei on 29 January.
Darfur has been the scene of a deadly conflict between the government and three rebel movements since 2003.
The Russian embassy in Khartoum confirmed the men had been captured.
"A Unamid minibus was blocked by six cars. The passengers were forced to get off the minibus at gunpoint and led off in an unknown direction," UTair said in a statement, adding that the hostage-takers had not yet made any demands.
"Unidentified militants kidnapped two Russian pilots in Zalingei, capital city of Central Darfur state, as they were on board a bus in the city," Unamid spokesman Ashraf Eissa told The Anadolu Agency.
A UTair helicopter with the UN mission in neighbouring South Sudan was shot down last year and three of its crew were killed.