South Sudan crisis: Bentiu 'shelled' by rebels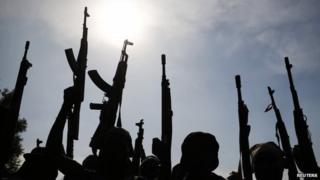 South Sudan's government has accused rebels of shelling its positions in the oil town of Bentiu in breach of a ceasefire.
A UN spokeswoman told the BBC the violence was the most serious since a ceasefire was agreed on 1 February.
Loud explosions were heard in the town, where some 53,000 civilians are sheltering inside a UN camp, AFP news agency reports.
Aid workers have warned that the conflict could cause a famine.
South Sudan is the world's newest state, gaining independence from Sudan in 2011.
Conflict broke out in 2013 after President Salva Kiir accused his sacked deputy Riek Machar of plotting a coup.
'Devastation'
He denied the allegation, but then raised a rebel force to fight the government.
The UN has about 8,500 peacekeepers in South Sudan.
China, which has major oil interests in the East African state, has promised to bolster the force with a further 700 troops.
"The rebels are shelling our positions in Bentiu," Defence Minister Kuol Manyang told AFP. "This is a violation of the cessation of hostilities agreement, and we will act in self-defence."
Aid workers in Bentiu said they briefly took shelter in bunkers because of the fighting, AFP reports.
Bentiu is a key town in South Sudan's oil-producing Unity State.
It changed hands several times when conflict first broke out and witnessed some of the most brutal violence, including summary executions and rape.
Regional mediators have brokered several peace deals between the two sides, the latest on 1 February in Ethiopia. However, violence has continued.
On Monday, donors pledged $529m (£347m) in aid towards South Sudan, following a UN appeal for $1.8bn.
Speaking after a three-day visit to South Sudan, UN emergency relief coordinator Valerie Amos said she had seen "first hand the continuing widespread devastation and destruction" and the "untenable level of suffering" that people were going through.
The UN estimates that more than 2.5 million of the country's people are facing severe food shortages.