Kenyan body confirmed as ICC witness Meshack Yebei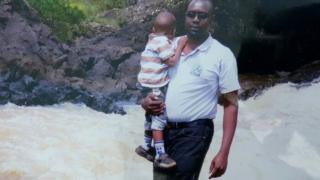 The Kenya government has identified the body of a man found in a national park as would-be International Criminal Court witness (ICC) Meshack Yebei.
Mr Yebei, who went missing in December, was expected to testify in the case against Deputy President William Ruto.
DNA tests have confirmed Mr Yebei's identity and officials will now conduct a post-mortem to establish how he died.
Mr Ruto denies any involvement in the violence that erupted after Kenya's 2007 elections.
Lawyers for Mr Ruto said that Mr Yebei was to have been a witness for the defence.
The ICC said Mr Yebei was implicated in efforts to corrupt prosecution witnesses in the case against Mr Ruto - charged with crimes against humanity - and another defendant, Joshua Sang.
Mr Yebei was reportedly abducted in late December at his home in Eldoret where he had gone to visit his family.
In January, a badly mutilated body thought to be Mr Yebei was found at a river some 40km (25 miles) from his home.
But a DNA test revealed that the body belonged to another man who had also gone missing around the same period.
Mr Yebei's family claims that his disappearance was connected to his involvement in the ICC case.
The BBC's Ferdinand Omondi in Nairobi says the latest twist raises further question because Tsavo National Park, where the real body was found, is about 600 kilometres south-east of Eldoret.
Edoret saw some of the worst violence in 2007-8.
Dropped charges
Mr Ruto, whose trial resumed in January, is the most senior government official to be tried by The Hague-based court since its formation more than a decade ago.
The ICC dropped similar charges against President Uhuru Kenyatta, alleging that prosecution witnesses had been intimidated and had changed their testimony.
Mr Kenyatta said he was innocent and the prosecution had no case against him.
Mr Ruto and Mr Kenyatta were on opposite sides in the 2007 election but formed an alliance for the 2013 poll which propelled them into power.
Some 1,200 people died and 600,000 fled their homes in the conflict after the 2007 election.