US defends backing event for DR Congo activists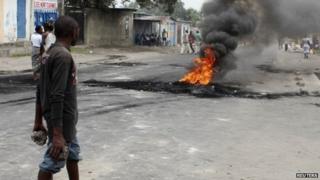 The US has defended its decision to back an event denounced by the Democratic Republic of Congo's government as an attempt to fuel unrest in the central African state.
DR Congo's security forces detained at least 18 people on Sunday, including a US diplomat and other foreign nationals, over the alleged plot.
The US said the event was non-partisan.
Concern about stability in DR Congo is mounting ahead of presidential elections next year, analysts say.
More than 40 people were killed in protests in January after the opposition raised concerns that President Joseph Kabila intended to delay elections in an attempt to cling to power.
Mr Kabila has served two terms as an elected president, and the constitution bars him from running for office again.
'Armed insurgency'
He has not yet indicated whether he will step down in next year's election.
Sunday's detentions came after police broke up a press conference called by pro-democracy activists to announce the formation of a new civil society group.
US diplomat Kevin Sturr was arrested at the press conference, along with activists from DR Congo, Senegal and Burkina Faso.
The press conference was "no place for a diplomat", DR Congo government spokesman Lambert Mende said.
Mr Sturr, who worked for the US aid agency, was later released.
A DR Congo government source told the BBC he would be expelled from the country.
At least 14 activists from DR Congo, three from Senegal and one from Burkina Faso were still in police custody, reports the BBC's Maud Julien from the capital, Kinshasa.
The activists included members of Burkina Faso's Balai Citoyen and Senegal's Y'en a Marre movements, which were involved in protests against presidents trying to extend their rule.
Mr Mende said their meeting in DR Congo was illegal, and they had been flown in to teach local activists how to organise an "armed insurgency".
Denying the allegation, the US embassy in Kinshasa said Mr Sturr was attending a press conference about a "civil society event" for Congolese youth "to exchange ideas" about the political process.