Nigerian press hails 'historic win'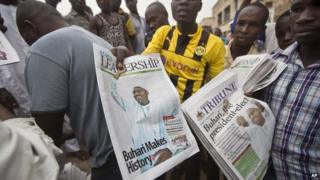 Leading Nigerian newspapers welcome the election win of former military ruler Muhammadu Buhari, but are more divided on the legacy of defeated President Goodluck Jonathan.
'Historic win'
The Premium Times like many papers refers to Gen Buhari's "historic election win", and Lagos paper The Guardian's main headline says "Buhari sweeps in".
Private English-language newspapers dominate the Nigerian press scene, mainly published in the capital Abuja and the commercial centre Lagos.
Mass-circulation Punch leads with President Jonathan's rallying call to his People's Democratic Party supporters - "Celebrate, don't mourn", but some commentators see the government's performance as the main reason for Gen Buhari's win.
Punch pundit Uche Igwe says he predicted the fall of President Jonathan two years ago, when it became clear to him that the "swaggering of Nigeria's ruling party would not last long".
The Leadership agrees: "We have said consistently for at least three years now that President Goodluck Jonathan's government... was possessed of a deadly combination of incompetence, corruption and clannishness, which made Nigeria not only a laughing stock, but something worse: an endangered country."
The Nation hails the "change Nigerians are yearning for", and attributes President Jonathan's defeat to his mishandling of oil industry corruption.
It wonders how he "expected that Nigerians would wait patiently for another four years before decisive action could be taken to halt the progressive slide in revenue".
'International statesman'
Other papers are more generous with President Jonathan in defeat.
Vanguard leads with its congratulations to Gen Buhari, saying this raises him to the status of an "international statesman".
This Day praises President Jonathan "for giving Nigeria the legacy of free and fair elections".
It hails Gen Buhari's "hard won victory after four attempts at the presidency", and urges him to be "magnanimous in victory" towards Mr Jonathan's supporters - especially among minority communities.
'Determined to save country'
Punch's Ayo Oyoze Baje finds a target for criticism in the technical glitches that marred voting in some parts of the country.
He calls on the election authorities to "desist from experimenting with new technology during a nationwide election of this magnitude".
And Vanguard says that Nigerians themselves deserve recognition for being "determined to save their country".
"They may never get credit for the efforts they make to get the country going, but there are instances when the Nigerian spirit is too obvious to ignore," it says.
BBC Monitoring reports and analyses news from TV, radio, web and print media around the world. You can follow BBC Monitoring on Twitter and Facebook.