Ebola outbreak: Lowest new cases since May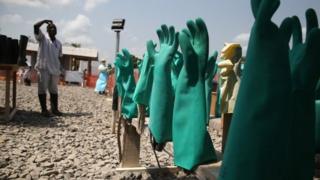 Data shows the lowest weekly cases of Ebola since May 2014, according to the World Health Organization (WHO).
Liberia has had no new cases of Ebola for five weeks and Guinea saw less than half the cases of the week before.
Liberia and Sierra Leone have started decommissioning some treatment centres, but the WHO has warned that there has been an increase in unsafe burials in Guinea which could lead to more cases.
More than 10,400 people have died in the outbreak in the last year.
---
For the latest news, views and analysis see the BBC Africa Live page.
---
Out of 30 new cases in the first week of April, 21 were from Guinea and nine were from Sierra Leone, the WHO's latest situation report said.
There have been no confirmed deaths from Ebola in Liberia since 27 March.
WHO said it had "strengthened confidence" that the downward trend would continue in Sierra Leone.
However in Guinea, the WHO reported 21 unsafe burials in a week so officials are not sure the fall in cases will be sustained.
Mourners can catch the virus by touching the highly contagious bodies of the dead.
Last month, the head of the UN Ebola mission said he hoped the outbreak in West Africa would be over by August.
---
Ebola virus disease (EVD)
Symptoms include high fever, bleeding and central nervous system damage
Spread by body fluids, such as blood and saliva
Fatality rate can reach 90% - but current outbreak has mortality rate of between 54% and 62%
Incubation period is two to 21 days
No proven vaccine or cure
Supportive care such as rehydrating patients who have diarrhoea and vomiting can help recovery
Fruit bats, a delicacy for some West Africans, are considered to be virus's natural host
The basics: What you need to know
Tracing the source of the outbreak