Boko Haram crisis: Nigerian army to hand over 'rescued' group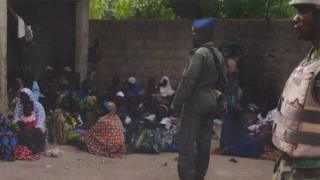 The Nigerian military is due to hand over nearly 300 people rescued from Boko Haram camps to the National Emergency Relief Agency.
The 200 girls and 93 women and children are to have medical checks before being reunited with their families.
The military has not disclosed their identities.
The girls abducted from a school in Chibok in April 2014, made famous by the #BringBackOurGirls campaign, were not among them.
The group are being taken to camps for displaced people in Yola in Adamawa state for medical checks to help overcome the trauma.
A community leader who has met many former Boko Haram captives says they are often brainwashed and traumatised.
He told the BBC there is a great need for more psycho-social support to help them reintegrate back into society.
The BBC has learnt that near one Boko Haram camp the soldiers were shocked when a group of women opened fire on them.
---
African news at it happened: 1 May 2015
---
A spokesman from the relief agency (Nema) told the BBC that the convoy carrying the girls had left the Borno state capital, Maiduguri, heading 400km (250 miles) south to Yola.
The army announced earlier this week that they had freed the girls from Boko Haram.
Another 160 people were rescued in another operations on Wednesday, the army said.
Nigeria's military says it has destroyed 13 camps belonging to the Islamist insurgents in their last hideouts - the vast Sambisa forest, which surrounds a reserve in Borno.
While the army says they had been captured by Boko Haram, a local senator says the women and children might have been residents of the area.
"These are farming communities and most of those left behind in villages are the elderly ones, women and girls," Ali Ndume told the BBC's Focus on Africa radio programme.
Thousands have been killed in northern Nigeria since Boko Haram began its insurgency in 2009 to create an Islamic state.
In February, Nigeria's military, backed by troops from neighbouring countries, launched a major offensive against the Islamist fighters. It has recaptured much of the territory Boko Haram had taken in the previous year.