Zimbabwe urged to find missing anti-Mugabe activist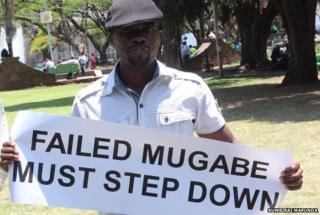 Human Rights Watch has urged Zimbabwe's authorities to release information on the whereabouts of a prominent pro-democracy activist it fears has been "forcibly disappeared".
Itai Dzamara has not been seen since he was abducted by five men in the capital, Harare, on 9 March.
Officials have denied any state agents were involved in his abduction.
Mr Dzamara is a vocal opponent of President Robert Mugabe, and has staged sit-ins demanding his resignation.
Family members have told Human Rights Watch (HRW) that state security agents threatened something would happen if he continued his activism, the US-based rights group said in a statement.
The former journalist and opposition activist was hospitalised in 2014 after reportedly being beaten by police during a peaceful demonstration.
Two days before his abduction, HRW says Mr Dzamara addressed an opposition rally calling for mass protests against worsening repression and economic conditions in Zimbabwe.
Zimbabwe's High Court in March ordered police and the state intelligence agency to actively search for the 36-year-old activist, after an appeal from his wife.
"Zimbabwe authorities appear to be doing nothing to find Itai Dzamara, increasing concerns about his safety," HRW researcher Dewa Mavhinga said.
"The threats against Dzamara by state security agents are a red flag for Zimbabwe's international allies to press the government to come clean about what happened to him."
Mr Mugabe, 91, and his Zanu-PF party have been in power in Zimbabwe since independence in 1980.