Libya conflict: Turkish ship 'bombed near Tobruk'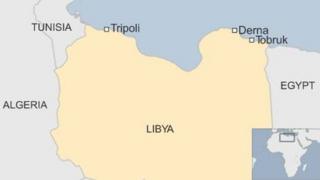 A Turkish freighter has been attacked near the coast of Libya, leaving one crew member dead, Turkey's foreign ministry has said.
The ship came under artillery and aerial fire near the eastern port of Tobruk late on Sunday, the ministry said. Several crew members were hurt.
Turkey criticised what it called an "atrocious" act.
But Libya said it had issued warnings about not approaching parts of the coastline.
Libya has been in chaos since its long-time leader, Colonel Muammar Gaddafi, was overthrown with Western military help in 2011.
The internationally-recognised government is based in the port city of Tobruk and in al-Bayda, having been expelled from the capital, Tripoli, by militias in 2014.
Turkey's foreign ministry said the ship, which was carrying gypsum from Spain to Libya, came under attack 13 nautical miles (24km) from Tobruk, its destination.
The Turkish third captain was killed.
But a spokesman for forces belonging to the Tobruk government said it was destined for Derna, a port city 106 miles (171km) further west.
"A ship was shelled about 10 miles from Derna coast. We have warned before about approaching Derna port," Mohamed Hejazi told Reuters news agency.
Turkey said the Cook Islands-registered ship was in international waters when it was attacked, something Libya denies.
In January, Libyan air force jets bombed a Greek oil tanker, killing two crew members, after saying its movements in Derna had raised suspicions.
Reports say no tankers unloaded in Derna between the bombing and two weeks ago, when a Maltese-flagged ship docked there.
Islamist militias have established a strong presence over the last two years, and some militants have pledged of allegiance to the Islamic State militant group.