Philippines profile - Media
24 November 2014

From the section

Asia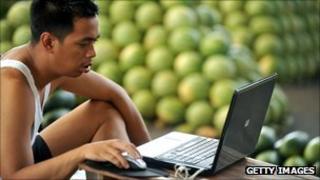 Powerful commercial interests control or influence much of the media.
The lively TV scene is dominated by free-to-air networks ABS-CBN and GMA. Some Manila-based networks broadcast in local languages. Cable TV has extensive reach.
Films, comedies and entertainment shows attract the largest audiences.
There are more than 600 radio stations. With around 100 outlets, Manila Broadcasting Company is the largest network.
The private press is vigorous, comprising some 500 newspaper titles. The most popular are Filipino-language tabloids, which can be prone to sensationalism.
Press freedom is guaranteed under the constitution. But violence against media workers is a serious problem. In late 2009, gunmen massacred 57 people, including 30 journalists, in a politically-motivated attack in the south.
"The government has allowed unpunished violence against journalists, most of it politically motivated, to become part of the culture," the Committee to Protect Journalists has said.
By the end of 2013 there were 44.2 million internet users (InternetWorldStats). Facebook and Twitter are the most popular social media platforms.
The government came under fire in late 2012 over a new cyber crime law which aims to prevent cybersex, online child pornography, identity theft and spamming. It also provides for prosecution for online libel and gives officials new powers to search and seize data from people's online accounts.
The press
Television
Radio
News agency