Pakistan 'shame' over fixing cricket spot-fixing scam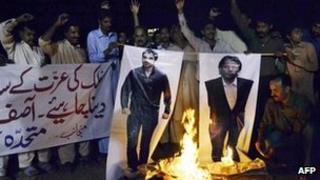 Newspapers and commentators across Pakistan have poured scorn on three cricketers jailed on Thursday for a spot-fixing scam during last year's Test match against England.
Former Pakistan cricket captain Salman Butt, fast bowlers Mohammad Asif and Mohammad Amir and their agent Mazhar Majeed were each handed prison terms.
Newspaper commentaries on Friday condemned the actions of the four men.
There have also been calls for new laws targeting corruption in sport.
"While the players can be prosecuted under existing laws governing gambling and fraud, it is time the parliament should consider legislation specifically targeting corruption in sports," lawyer Zahid Hussain Bukhari told BBC Urdu.
'Sad day'
The sentences for the three cricketers has dominated the newspaper headlines and media output in Pakistan, with little sympathy expressed for the cricketers.
"They were once the darlings of Pakistan, immensely talented and wildly popular but on Thursday, they cut a sorry figure of shame," Murtaza Ali Shah of The News wrote on Friday.
The youngest of the cricketers, Mohammad Amir, spoke to the paper's correspondent and asked for a message to be sent to Pakistani fans seeking forgiveness.
All commentators were united in calling Thursday a black day for Pakistani cricket.
Former Pakistan captain Rashid Latif told the AFP news agency that "they deserved this punishment, they had it due."
He added that the Pakistan government and Pakistan cricket board should also take action against them.
"These convictions will hopefully serve as a deterrent to others in future because cricket should not be allowed to be corrupted by anyone and that is very serious for all of us," he said.
Their judgements echoed the verdict of Pakistan's cricket board on Thursday which said that it was a "sad day " for Pakistani cricket and said the men's actions had damaged the country's image.
Pakistan Cricket Board spokesman Nadeem Sarwar said: "Instead of having pride in playing for their country, these players chose to disappoint their supporters, damage the image of their country and bring the noble game of cricket into disrepute. There is little sympathy in Pakistan for the sorry pass they have come to."
He said the PCB was introducing measures to stamp out corrupt behaviour, which will include training courses particularly aimed at younger players. The Pakistan government will also be urged to make corruption in sport a criminal offence.
BBC correspondents say there is a lot of public anger in Pakistan about the spot-fixing scams. Ordinary people say they feel the country has been let down by the actions of these cricketers.
But there have been some voices of support for the cricketers.
The chief of the Islamist party Jamaat-e-Islami said he "deplored" the verdict and sentencing of the cricketers. He added that he held the Pakistan Cricket Board responsible for these developments.
'Valuable' no-balls
Salman Butt was jailed for 30 months for his part in the conspiracy to bowl deliberate no-balls in last year's Test match against England.
Former world number two Test bowler Mohammad Asif, 28, was jailed for one year and bowler Mohammad Amir, 19, has been sentenced to six months.
Cricket agent Mazhar Majeed was jailed for two years and eight months.
An undercover News of the World (NOTW) reporter paid Majeed £150,000 for details of the precise timing of three no-balls, which the players were persuaded to bowl, which were extremely valuable on the spot-fixing betting market.
The men were arrested after the fourth Test between Pakistan and England in August 2010.