North Korean 'defectors' found by southern coastguard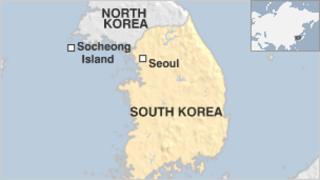 Twenty-one North Koreans, some of them children, have been found adrift in a boat off the west coast of South Korea, the authorities there say.
The South Korean coastguard said the group, who appeared to be from the same family, wished to defect.
They had hidden themselves among Chinese fishing boats to avoid being spotted.
The South Korean government's policy is to accept all North Koreans who wish to stay in the South.
They were discovered near Socheong Island last Sunday and their five-tonne wooden boat was towed to shore.
It is not clear why the rescue was not announced earlier.
Most North Koreans attempting to flee their country usually escape on foot into China.
But China sends back many of those it catches, treating them as economic migrants, rather than asylum-seekers.
North Korean groups in Seoul said those arriving by boat were likely to have come from parts of the country far from the Chinese border, which itself was getting harder to cross, the BBC's Lucy Williamson reports.
The arrival is the largest of its kind since February, when 31 North Koreans floated south on a fishing boat - possibly unintentionally. Seoul sent 27 back at their request and let four stay in the South.
More than 21,000 North Koreans have defected to the South since the Korean war ended in a truce in 1953.