Japan detains China boat captain off Goto Islands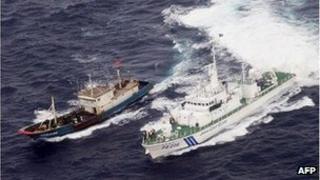 Japan's coast guard has arrested the captain of a Chinese fishing boat after his vessel strayed into Japan's waters.
The coast guard said the captain had refused to stop for an inspection near the south-westerly Goto Islands.
The Japanese authorities said the vessel then tried to flee, and was stopped only after a four and a half hour chase ended with a collision.
The arrest of another Chinese skipper last year caused a high-level spat between the two countries.
The latest incident took place off the Goto Islands on Sunday. The islands lie off the west coast of Nagasaki prefecture in the southern island of Kyushu.
The captain, named as Zhang Tianxiong, 47, reportedly faces up to six months in jail if convicted.
Japan's chief cabinet secretary Osamu Fujimura played down any possible ramifications of the arrest, saying it was a "regular case" to be dealt with according to domestic law.
The Chinese Foreign Ministry has not commented on the latest incident.
In September 2010, relations between the two countries plummeted after the arrest of a Chinese trawler captain.
Beijing suspended ministerial-level meetings and, according to trading companies in Tokyo, blocked exports of rare earths, vital for high-tech manufacturing in Japan.
There were nationalist demonstrations in both countries before Japan eventually released the Chinese captain and allowed him to go home.
The BBC's Roland Buerk in Tokyo says there is hope though that the latest arrest will be resolved without rancour.
The latest incident took place well within Japanese territorial waters. Last year's took place near the Senkaku Islands, which Japan controls but China claims and calls the Diaoyu Islands.