India Kudankulam nuclear plant 'safe' - APJ Abdul Kalam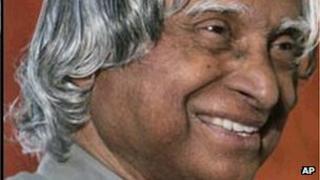 Ex-Indian President and scientist APJ Abdul Kalam has said a controversial planned nuclear plant in the southern state of Tamil Nadu is safe.
Speaking on a visit to the Kudankulam plant, he said it was equipped with "sophisticated safety features and there is no need to panic".
Work at the plant has been halted following protests by local villagers.
Protesters say the facility is unsafe and fear a repeat of the disaster at Japan's Fukushima plant.
The nearly $3bn plant is equipped with two reactors built with Russian assistance.
"I am completely satisfied and happy with the sophisticated safety features of the reactors and hence there is no need for panic since it's only a boon to the future generation," Mr Kalam told reporters after visiting the plant.
He added that he was neither a mediator nor a government envoy, but "a technologist".
"I support nuclear energy along with solar and wind power as it is a clean and green energy which is very much required for the country's rapid growth," he said.
The protesters said they were disappointed with Mr Kalam's support for the plant.
"We need to know about the waste issues, the overall fresh-water issues. There are so many other issues that have been left unanswered until now," SP Udhayakumar of People's Movement against Nuclear Energy said.
Earlier this year there were violent protests against a planned nuclear power plant in Jaitapur western India - activists say the region is prone to earthquakes.
Indian Environment Minister Jairam Ramesh has said extra safeguards will be taken in light of the crisis in Japan.
But local villagers also fear the $10bn (£6bn) Jaitapur plant - expected to be the biggest in the world - will ruin their traditional fishing grounds.