India: Several injured in Kashmir protests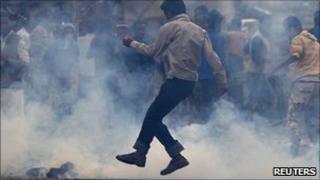 Angry clashes between police and crowds of stone-pelting youths have erupted in at least two locations in Indian-administered Kashmir, officials say.
Several people were injured when a crowd of youths held a rally in Sopore, north of Srinagar.
The clashes broke out soon after prayers were held for the Muslim festival of Eid al-Adha on Monday.
Protesters say that the authorities prohibited two senior separatist leaders from taking part in prayers.
They vowed to protest against what they described as an "undemocratic regime."
In Sopore, witnesses say, riot police did not allow the rally to form a procession and this angered youths who started throwing stones.
"Police retaliated with smoke shells and charged against the procession," one witness told the BBC.
A similar incident took place at Anantnag, 60 km (37 miles) south of Srinagar, and police say that several officers were injured during that clash.
According to Inspector General Shiv Mohan it began as a brawl between two rival groups, Ahle-Hadith and Hanafi, and developed into an anti-police riot.