Trekkers stranded by bad weather on Everest rescued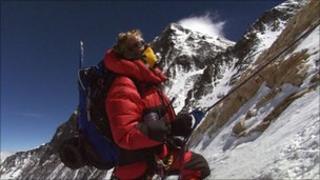 Hundreds of tourists and Nepalis who were stranded for days in the foothills of Mount Everest are being rescued as bad weather eases, officials say.
About 2,000 foreign trekkers and Nepalese guides and porters were stuck when poor weather halted flights in the area last week.
The Tenzing-Hillary airport in Lukla is the gateway for trekkers wishing to scale the world's highest peak.
About 20 packed flights took off from the airport on Monday, one report said.
Lukla is a small airport with only one runway and limited space for planes.
Nevertheless, more than 500 trekkers had already arrived in Nepal's main airport in Kathmandu by mid-morning, a manager at the airport told the Associated Press news agency.
The government was leading the evacuation and some private helicopters are also involved in the rescue effort.
"It has been misty and cloudy for the whole week, but everyone has been fantastic keeping us fed and giving water," UK tourist Megan Freese told AP.
But correspondents say that many tourists had been crammed into overflowing hotels and food was running out.
Some Nepalese guides slept outdoors as tourists took up all the spare capacity at hotels.
Last year a similar bout of bad weather stranded tourists for about 15 days, resulting in a severe food crisis.
Thousands of tourists visit the Everest region during the peak season in the latter part of the year.
Nepal has eight of the world's 14 highest peaks including Mount Everest, which stands at 8,848 metres (29,029 feet).