China plays down Japan fishing boat arrest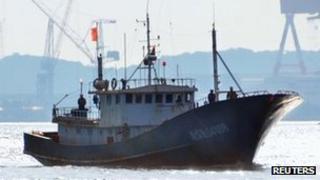 Beijing has described Japan's arrest of a Chinese fishing boat captain as a "regular fishery case", in a muted response to the incident.
Japanese coastguards arrested the captain on Sunday after a chase near the Goto Islands, off Nagasaki.
The arrest of another Chinese skipper last year, off the disputed Senkaku islands, caused a high-level spat between the two countries.
A Chinese foreign ministry spokesman said the case was being investigated.
"This is a regular fishery case," spokesman Hong Lei told journalists.
"China hopes that the Japanese side will take concrete measures to ensure the legitimate rights and interests of the fisherman and properly handle the issue as soon as possible."
In September 2010, relations between China and Japan plummeted after the arrest of a Chinese trawler captain near the Senkaku islands, which China calls the Diaoyu Islands.
But this incident took place further to the north, off the southern island of Kyushu, in waters that are not disputed, the Japanese Coast Guard said.
The Chinese fishing boat is now in Nagasaki port.