Crisis talks amid India Kabaddi World Cup drugs scandal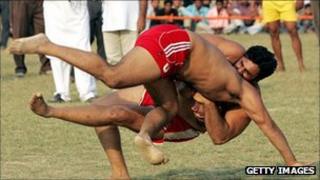 The World Cup in the popular South Asian sport of kabaddi is holding crisis talks after 18 players tested positive for steroids, officials say.
Competitors from Australia, the United States and the UK are among those suspended from the competition in the northern Indian state of Punjab.
The number could rise as only half of the 96 samples have been announced.
Kabaddi has two seven-member teams. A "raider" enters his opponent's half to try to tag a rival and return safely.
While he is "tagging" his opponents he has to hold his breath and chant "kabaddi, kabaddi".
'Bad name'
India's National Anti-Doping Agency (NADA) says the players affected have been provisionally suspended and withdrawn from the championship.
The players are from the US, Australia, Canada, the UK, Norway, Italy, Argentina, Spain and Germany.
Punjab sports director Pargat Singh told the Times of India there would be a key meeting on Thursday.
He said: "The tournament's reputation is at stake."
The Times quoted the director general of NADA, Rahul Bhatnagar, as saying that random sampling would now be increased.
"It is bringing a very bad name to the sport and the country as well," he said.
In October nine kabaddi players in India tested positive for a banned substance, bringing the number of failed tests up to 19 out of 50 over a one-month period.
Sports doping has become a major issue in India and authorities have had to impose stern testing regimes.
Correspondents say that because kabaddi has no national or international governing body, anti-doping measures among the 14 teams taking part in the World Cup are much harder to enforce.
The lack of regulatory bodies in the sport has also led some critics to complain that teams participating in the tournament do not represent their countries.