India and Pakistan commerce officials in trade summit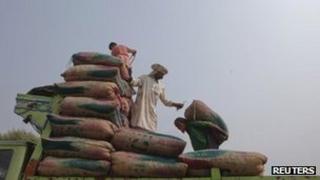 India and Pakistan have begun talks on opening up trade between the countries after Islamabad said it would grant most-favoured-nation status to India.
Last month Pakistan approved awarding the special trading status to India. It had previously linked such a move to resolving the Kashmir dispute.
Talks in Delhi will focus on doubling annual trade to $6bn (£3.7bn) in three years.
Correspondents say it is a significant step towards boosting peace.
India has already extended most-favoured-nation status to Pakistan.
"We will have interactions in the spirit of mutual co-operation and confidence so please have trust and faith in the process [as] times have changed and the world is coming closer," Pakistan's Commerce Secretary, Zafar Mahmood, is reported by the AFP news agency as saying.
His Indian counterpart, Rahul Khullar, said India welcomed the MFN status, which would remove duty tariffs and pricing structures that inhibit trade between the nations.
"Our business communities, our politicians and our citizens are looking to both our delegations to deliver a substantial breakthrough - not only for full normalisation of our trade relationship, but to go beyond and lay a strong foundation for preferential trading arrangements," Mr Khullar said.
India and Pakistan resumed formal peace talks this year after they were broken off in the wake of the militant attacks in Mumbai in 2008.