Australia's Gillard urges U-turn on India uranium sales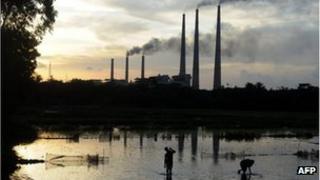 Australia's prime minister has called for the country's ban on selling uranium to India to be overturned.
Julia Gillard wrote in a newspaper column that it made no sense to sell nuclear material to China, Japan and the US, but not to India.
Ms Gillard's Labor Party introduced the ban in 2008 because India had not signed the non-proliferation treaty.
Australia holds about 40% of the world's proven reserves of uranium and supplies about 20% of the world market.
The country has no nuclear power facilities itself but allows the export of uranium for peaceful purposes.
'Dynamic, democratic India'
India has a long-standing nuclear power programme, but also has nuclear weapons.
Delhi has refused to sign the non-proliferation treaty, arguing that it is discriminatory because only countries that had tested nuclear weapons before 1967 are allowed to legally possess them.
Despite this, the US recently signed a deal with New Delhi to co-operate on its civil nuclear programme.
Ms Gillard, writing before the Labor Party conference next month, urged her colleagues to drop their support for the ban, describing India as a close partner.
"It is time for Labor to modernise our platform and enable us to strengthen our connection with dynamic, democratic India," she wrote.
"We must, of course, expect of India the same standards we do of all countries for uranium export - strict adherence to International Atomic Energy Agency arrangements and strong bilateral undertakings and transparency measures that will provide assurances our uranium will be used only for peaceful purposes."
She said lifting the ban would bring jobs and growth to Australia.
Analysts say Ms Gillard's plan is likely to face stiff opposition from politicians on the left of her party, but she is likely to have enough support to force the issue through.
India is planning to build some 30 reactors in the next 30 years and is aiming to get a quarter of its electricity from nuclear energy by 2050.