Seven killed in Karachi shoot-out - Pakistani police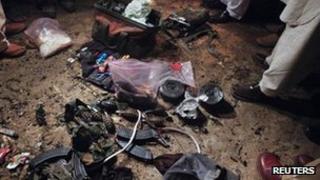 At least seven people have been killed in a shoot-out in Pakistan's southern port city of Karachi.
The dead include five militants and two policemen - officials say one of the militants blew himself up after an exchange of fire with the police.
Taliban militants have been expanding operations in Karachi after fleeing operations in northern Pakistan.
They have carried out several attacks - including one in September which targeted a senior police official.
'Attack planned'
"The militants were driving a van on Beach Avenue," a police official - who examined the scene of the attack - told the BBC.
"A police patrol on motorbike approached the vehicle as it appeared suspicious."
There is still confusion about the subsequent events: some eyewitnesses say there was an exchange of fire.
Others say four of the militants jumped out of the vehicle as the police approached - at which time a suicide bomber inside the van blew himself up.
What is clear is that the militants were only meeting at this location as there is no residential area nearby.
Beach Avenue - as the name suggests - is located on Karachi's shoreline in the upscale Defence neighbourhood.
Police officials say they suspect the men were planning a major attack, as at least one unexploded suicide belt, several grenades and automatic weapons were recovered from the site of the incident.
A police official told the BBC that some of the evidence recovered from the site suggested links to militants who broke into the Mehran naval base in Karachi in June.
At least nine people were killed and 19 wounded when militants engaged in a stand-off with security forces for nearly 18 hours in central Karachi.