Bangladesh hosts renowned Hay literary festival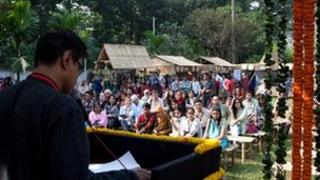 One of the most highly regarded literary festivals in Britain has held an event in the Bangladeshi capital Dhaka for the first time.
Organisers of the Hay festival say it was one of the most important international book fairs to have been staged in the city.
The aim was to bring together British and Bangladeshi authors to share their ideas and promote reading.
Six British authors and six Bengali writers showcased their work.
In previous years the Hay Literary Festival has hosted events in India, the Maldives, Africa and central America.
Bangladesh's British Council spokesperson Shreela Ghosh told the BBC's Ethirajan Anbarasan in Dhaka that the aim of the event was to showcase Bengali literature to the outside world, creating a new breed of Bangladeshi writers in English.
"Although Bengali culture and its literary culture is so rich, so little of it is known outside of Bangladesh or the Bengali-speaking world," Ms Ghosh said.
"So it was really vital that we got good discussions leading to future collaborations possibly between the writers and the translators who were here."
Our correspondent says that while other international literary festivals have been hosted in Bangladesh in the past, this was the biggest event of its kind for the country.
The inaugural event - attended by 1,000 people - saw well-known Bangladeshi authors such as Fakrul Alam and Selina Hossain alongside Booker-shortlisted writer Andrew Miller and Welsh writer Jon Gower.