Landmine use 'highest since 2004' despite record clearances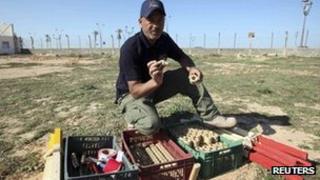 More countries deployed anti-personnel mines last year than in any year since 2004, an international survey of landmines has found.
The Landmine Monitor report says use of the weapons increased despite record areas of land being cleared of them.
Four countries which have not signed an international treaty outlawing the devices - Syria, Libya, Burma and Israel - laid new mines this year.
Armed groups in Afghanistan, Colombia, Burma and Pakistan also laid new mines.
On Tuesday, Colombian officials said three soldiers had been killed in the country's south-west by landmines planted by leftist Farc rebels. The soldiers had been guarding workers destroying coca plantations.
The Landmine Monitor was created in 1998 by the International Campaign to Ban Landmines.
Its latest report also says funding to clear mines, and to help victims of them, reached an all-time high of $637m (£407m) in 2010.
"In these tough times government are showing their strong commitment to ridding the world of landmines by continuing to fund efforts to clear mines and assist survivors," said Jacqueline Hansen, programme manager for Landmine Monitor.
Eighty percent of the world's countries (158 nations) have signed the Ottawa Treaty to ban mines, with several more countries preparing to join.
A record area of land - 200 sq km (77 sq miles) - was cleared of landmines in 2010 and an additional 460 sq km of former battlefield was cleared as well, resulting in the destruction of more than a million landmines and items of unexploded ordinance.
The general trend has been for a fall in the number of landmine casualties every year but more than 4,000 people were confirmed killed or injured by them last year.
Loren Persi-Vicentic from Landmine Monitor said the number of people living with landmine injuries was increasing every year.
"Only 9% of mine action funding is dedicated to assisting this growing population of survivors, who requires assistance for the rest of their lives," he said.