Pakistan appoints Sherry Rehman as new US ambassador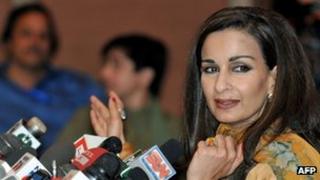 Pakistan has appointed former information minister Sherry Rehman as the country's new ambassador to the US.
Ms Rehman replaces Husain Haqqani, who resigned denying claims that he had sought US help against the army after the killing of Osama Bin Laden in May.
The row has put ties between Pakistan's government and military under strain.
Ms Rehman, a close ally of President Asif Ali Zardari, is a liberal who has faced death threats for backing changes to controversial blasphemy laws.
"We have many challenges [in Pakistan]," she said after her appointment.
"We have given many sacrifices. These sacrifices should not go waste. This blood should not go to waste and we have a firm resolve. We will plead our case everywhere with one voice."
Pakistan is seen as crucial for Washington as it strives to end the conflict in Afghanistan following the death of Bin Laden during a secret US special forces raid.
Ms Rehman's appointment surprised some observers, who expected the army to have a visible say in Mr Haqqani's successor.
Ali Dayan Hasan of Human Rights Watch said it suggested "the military has failed to assume complete control of Pakistan-US relations".
Nonetheless, observers believe she will be more palatable to her country's military leaders than her predecessor. Correspondents say she is likely to be well received in Washington - the diplomatic posting is crucial to both Pakistan and the US.
Summoned
Mr Haqqani met Ms Rehman to discuss her new job on Wednesday. She's a "dedicated democrat", he tweeted, and wished her all the best.
He was summoned to Islamabad earlier this week and resigned after meeting Pakistan's top civilian leaders, the head of the army and intelligence service chiefs on Tuesday.
The former ambassador is accused of compiling a memo seeking US help to avert a military takeover in Pakistan following the killing of Bin Laden.
He has consistently denied the allegations, which were made by US-based lobbyist Mansoor Ijaz.
The departure of Mr Haqqani appears to have drawn a line under the row for now.
But large parts of the affair still remain unexplained and if the memo trail could be traced direct to Mr Zardari's door, he would be in deep trouble, BBC correspondents say.
Some analysts believe that Mr Haqqani may have been made a scapegoat to prevent simmering tensions between the Zardari government and Pakistan's all-powerful military from erupting.
At any rate, the former ambassador, whose backing for the civilian government had earned him the distrust of the military, seemed undeterred on Wednesday.
In another Twitter post, he said: "Ah! To wake up in my motherland, without the burden of conducting Pakistan's most difficult external relationship."
'Excellent nomination'
Ms Rehman is a progressive and respected member of the governing Pakistan People's Party, with a reputation as a campaigner.
She was one of only a few politicians prepared to speak out on the blasphemy laws - which she argued were being used to persecute minority faiths.
She gave up those attempts in February, accusing her party of appeasing extremists.
In April she told the BBC that her life was in danger as a result of her stance and that she had to stay away from public meetings.
She was appointed information minister in March 2008 but resigned a year later after a clampdown by the PPP-led government on protests by lawyers, opposition groups and the media.
A number of observers see her appointment in Washington as a clever move.
"She is an excellent nomination because she is highly regarded in Pakistan's intellectual and political circles, and I think even in those circles close to the military establishment," Rasul Bakhsh Rais, professor of political science at Lahore University of Management Sciences, told the Associated Press.