Afghan guards killed in attack in Farah province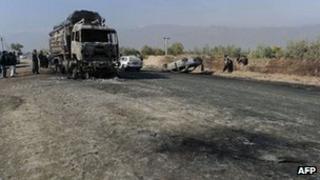 Militants have killed at least 10 Afghan employees of a private security company in the western province of Farah, local officials say.
A spokesman for the provincial governor told the BBC the convoy of vehicles was attacked in Bakwah district. Another 10 people were wounded.
Many of the vehicles, which were thought to be carrying supplies for Nato forces, were set on fire.
No group has said it carried out the attack.
The Taliban and their allies have frequently mounted such raids in their fight against the Western-backed government of Hamid Karzai.
The worst of the violence has been in the south and east of the country but has spread to many other areas, including the once relatively peaceful province of Farah.
Thursday's attack is thought to have taken place on the Kandahar-Herat road.
Farah governor spokesman Nasibullah Farahi said it lasted two hours and ended after Afghan police intervened. He said there were no foreign troops involved.