Pakistan urged to rethink Bonn Afghan talks boycott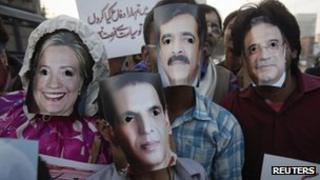 US Secretary of State Hillary Clinton is leading calls for Pakistan to reconsider its boycott of a meeting on Afghanistan's future next week.
Pakistan said on Tuesday that it was not attending the talks in protest at a Nato air strike which killed 24 of its soldiers at the weekend.
Mrs Clinton said Pakistan's decision not to attend was "regrettable".
Meanwhile, Pakistan remains angry over the Nato attack which on Wednesday it described as "deliberate aggression".
Mrs Clinton said that she hoped there would be a "follow-up way" for Pakistan to take part in talks on Afghanistan's future.
She pledged an investigation "as swiftly and thoroughly as possible" into the "tragic incident" at the weekend.
Both German Chancellor Angela Merkel and Afghan President Hamid Karzai have urged Pakistan to re-think its decision not to attend the conference.
Mrs Merkel said that Berlin would "see what could be done to change" Islamabad's decision.
But the BBC's M Ilyas Khan in Islamabad says that Pakistan's ire over the attack shows no sign of diminishing.
Our correspondent says that the boycott is sure to undermine the credibility of the conference because Pakistan is considered by all to be crucial if any peace deal is to be secured in Afghanistan.
Islamabad desperately needs some kind of a face-saving gesture from the US if it does attend, our correspondent says, because of domestic concern that the country is unable to defend itself or its own people.
Relations between the two countries have been strained by the killing of Osama Bin Laden in May by US special forces, continuing US drone strikes in Pakistan and a row over a CIA contractor acquitted earlier this year after killing two men in Lahore.
Taliban infiltration
At a briefing on Wednesday Maj Gen Ishfaq Nadeem said it was impossible for Nato not to have known it was attacking Pakistani posts in the weekend attack.
He repeated Pakistani allegations that the alliance had ignored mutually agreed communications procedures during the attack.
Pakistani authorities say the border posts were strategically located to stop Taliban infiltration into Pakistan.
They have also accused Afghan and American forces of providing sanctuaries to anti-Pakistan militants in Afghanistan.
The Bonn meeting is aimed at bringing together Western and regional leaders to map out a strategy for Afghanistan after the withdrawal of foreign combat forces in 2014.
Unnamed Afghan officials quoted in The Wall Street Journal said Saturday's air strike was called in to shield Nato and Afghan forces who had come under fire - a charge strongly denied by Islamabad.
One official quoted in the paper said that Kabul believed the shooting came from an army base.
The US and Pakistan desperately need each other in order to shape the future of a stable and neutral Afghanistan before Western combat troops withdraw next year, correspondents say.
While Pakistani officials facing mounting domestic anger over ties with the US, they have little room for manoeuvre - the country is heavily dependent on US civilian and military aid.
The BBC's Orla Guerin in Islamabad says there is little chance of ties being cut - but Pakistan is determined to send a message that it will not be satisfied merely with condolences from Nato or promises of an inquiry.