Baby joy for Pakistan gang rape victim Mukhtar Mai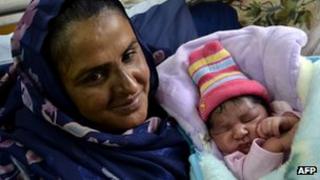 A Pakistani gang rape victim, Mukhtar Mai, who won international acclaim as a campaigner for women's rights has given birth to a baby boy nine years on.
The baby, her first child, was delivered by Caesarean section two weeks early in the city of Multan, husband Nasir Abbas Gabol said.
Ms Mai, 40, was raped by four men in 2002 as punishment after her 12-year-old brother was accused of adultery.
She ignored taboos in campaigning to get her attackers convicted.
However, five of six men originally convicted of involvement in the rape have since been acquitted.
Ms Mai married her police constable husband in March 2009. He has five children from a previous marriage.
"It is a good news for both of us, I feel happy like any father and I thank Allah that Mai is OK," he said.
Hepatitis B complications
The baby was born on Sunday afternoon in a private clinic. He has not been named.
He weighed 3.8kg (8.4lb) and both mother and child were faring well, medical staff said, despite complications because Ms Mai was suffering from Hepatitis B.
The attack against her became the most infamous women's rights case in Pakistan for years.
Since the attack, Ms Mai, who was then illiterate, managed to start a school for girls and a women's refuge just a few hundred metres (yards) from the spot where she was raped.
She received international awards for her bravery in speaking out, and her autobiography In the Name of Honour has been sold worldwide.
In an interview with the BBC in April, she said that she believed that what had happened to her nine years ago could still happen today.