Killer of Australia mobster Carl Williams gets 32 years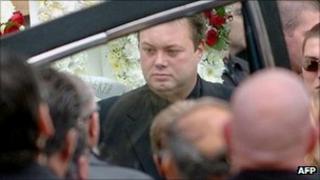 A serving prisoner who beat to death one of Australia's most notorious criminals has been sentenced to 32 years without parole.
Judges said Matthew Johnson, 38, seemed to believe he had a "special entitlement to kill" and followed a "meaningless underworld prison code".
He beat to death notorious Melbourne mobster Carl Williams with a pole from an exercise bike.
The incident was captured on the prison's CCTV cameras.
Johnson had said he killed Williams in self-defence, but the jury dismissed his claims.
Victorian Supreme Court Justice Lex Lasry said it was an "appalling murder and is offending near the top of any notional range of offending".
"It was a killing which appears to demonstrate your belief that you have some special entitlement to kill when you think it appropriate or your ego demands it according to some meaningless underworld prison code," he said.
"I am left with no choice but to punish what you have done with an appropriately heavy sentence."
CCTV footage of the incident showed Williams sitting in the prison's recreation room reading a newspaper with a front-page story about himself.
Johnson approached him from behind and struck him with the exercise bike's seat post on the side of the head.
Williams fell to the floor and Johnson beat him with the pole, before dragging him back to the cell.
The court heard how Williams was giving information to police, and Johnson had found out.
At the time, police feared the killing could spark another gangland war in Melbourne's criminal underworld.
Williams was already serving a 35-year jail term for murdering three of his rivals when he was killed in April 2010.
His life of crime and the gangland warfare it engendered in Melbourne was the inspiration for the TV series Underbelly.