Karmapa Lama: Indian police charge Tibetan exile leader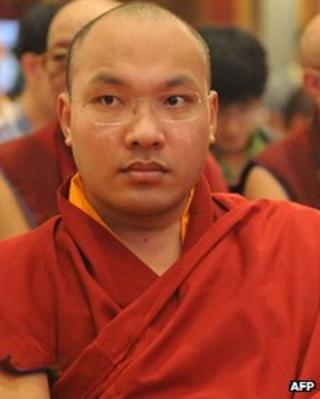 Indian police have charged exiled Tibetan leader the Karmapa Lama after seizing about $1.4m (£900,000) in cash at his monastery in Dharamsala.
They allege the cash was being held in violation of foreign exchange rules.
But the Karmapa's aides say that it was provided by thousands of supporters in the form of donations to his monastery.
The Karmapa heads one of the four sects of Tibetan Buddhism and is expected to play a prominent spiritual role in the event of the death of the Dalai Lama.
Correspondents say that the district court where the criminal conspiracy charges were filed will soon make a decision as to whether the case should come to trial.
A statement released by his office on Thursday said that so far no official or court notice had been served against him.
"The Karmapa Office of Administration has always provided the authorities with complete details and documents pertaining to the case," the statement said.
"At no point of time was His Holiness ever called or examined by the investigating agency."
The statement said that that the Karmapa was consulting with his lawyers over the next course of action "which will be decided only once the court takes any decision on the charge sheet filed".
'Thorough investigation'
The Karmapa is seen as the third most important figure in Tibetan Buddhism after the Dalai Lama and the Panchen Lama.
He fled Tibet in 1999 and arrived in Dharamsala - in the Indian state of Himachal Pradesh - which is the seat of the Tibetan government-in-exile.
The Dalai Lama said in January, when the money was seized, that there should be a "thorough investigation" into the matter.
Police said at the time that the "unaccounted" money was made up of 24 currencies.
The Karmapa is reported to have told investigating agencies that he received the money in donations from followers and that it was being used to purchase land for a monastery.
He has argued in the past that he is not involved in the financial affairs of his religious order.