Karachi bomb kills three paramilitary soldiers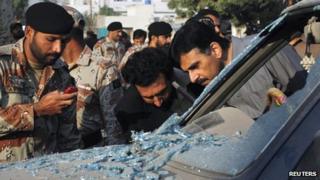 A roadside bomb blast has killed three paramilitary soldiers in Pakistan's southern coastal city of Karachi, police say.
The early morning explosion took place in the Gulistan Johar area of eastern Karachi.
The BBC's Shoaib Hasan in Karachi says the improvised explosive device was placed under the vehicle. No group has claimed responsibility for the attack.
Karachi has seen numerous attacks by militants as well as local gangs.
"The blast took place at 7:25 local time (0225 GMT) in the morning. The paramilitary personnel were in a parked vehicle nearby, three of them are dead, and four others are critically wounded," police official Altaf Hussain said.
Following recent government peace gestures towards the Taliban, militant attacks in Pakistan have come down.
Karachi's ethnic violence - caused by power struggles between groups allegedly connected to the city's main political parties - has also abated in recent months.