Abducted US teenager Kevin Lunsmann 'free' in Philippines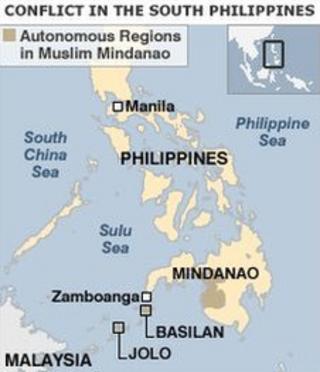 An American teenager is free after being held captive for five months by suspected Muslim rebels in the Philippines, say officials.
But it is unclear whether Kevin Lunsmann, 14, escaped or was freed by his captors. He is now reported to be on southern Basilan island.
He was abducted with his mother and cousin in July.
His mother, Gerfa Yeatts Lunsmann, was freed in early October and his Filipino cousin escaped last month.
Ms Lunsmann, a 41-year-old vet, and the others were kidnapped on 12 July while holidaying at a resort on the island of Tictabon, near Zamboanga.
They are believed to have been taken by militants from the Abu Sayyaf Islamic group, but there was no public claim of responsibility.
Reports conflict as to whether Kevin is in the care of a mayor on the island of Basilan, as reported by AFP news agency, or is in military custody, as a military spokesman told AP news agency.
And it is unknown whether any ransom has been paid.
Kidnap-for-ransom groups are prevalent in the southern Philippines, according to the BBC's Kate McGeown in Manila.
The Abu Sayyaf Islamic group is particularly well-known for using kidnapping as a way to raise funds.
It is notorious for beheadings and bombings and is on the US government's list of foreign terrorist organisations.