Pakistan journalists ordered to stop 'moonlighting'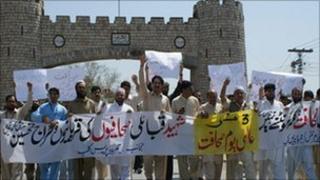 The Pakistani government has ordered hundreds of journalists in its militancy-hit tribal regions to stop receiving pay as public teachers.
The recently-issued edict surfaced in a government letter sent to the Tribal Union of Journalists (Tuj).
It asked them to terminate the membership of those journalists who are wrongly receiving pay as teachers or clerks in government-run schools.
The journalists' association says that it is working to end the practice.
About 200 journalists are registered with the Tuj - and it is estimated that more than half of them are also government employees.
A government notice has described their dual employment as a "neglect of duty".
It says that it is wrong that some journalists receive regular pay as teachers but do not even attend schools.
The notice was issued by the Federally Administered Tribal Areas (Fata) Secretariat, a government department that runs the tribal regions.
Tuj President Safdar Hayat Dawar told the BBC that there was already a shortage of journalists in the tribal regions and "by removing them we could see more problems".
Increased importance
After the 9/11 attacks, Afghanistan and the bordering tribal regions of Pakistan gained increased strategic significance.
To meet the international and national media appetite in this mountainous and remote area, there was a steep rise in the number of journalists - from a few dozen to several hundred.
The Tuj says that it is trying to strengthen its rules so that a journalist cannot "moonlight" as a teacher.
But the journalists say they they have to work as teachers because it is difficult for them to make ends meet.
A tribesman working as a school teacher in the tribal region of Khyber and as a journalist told the BBC on condition of anonymity that he was forced to do two jobs because he needed the extra income.
"I know it's wrong," he said, "but it's these very people who have shown to the world the real state of affairs in our region regarding growing militancy."
He alleged that a wide variety of people - from teachers to those convicted of criminal offences - "double-up" as journalists.
"We get paid very little from schools but after school hours we write for [local and international] newspapers," he said.
"If President Asif Ali Zardari can hold two offices at the same time [as president and as co-chairman of the governing Pakistan People's Party] why can't we?"
But critics say that a government teacher - with more than 10 years of service - working in the tribal region only earns around 20,000 to 30,000 rupees (£150/$232 to £220/$340) a month - far less than most journalists.