Pakistan President Zardari leaves Dubai hospital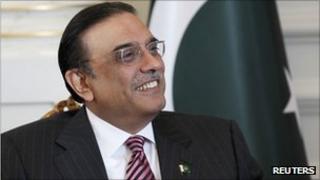 Pakistani President Asif Ali Zardari has been discharged from a hospital in Dubai, his spokesman says, a few hours earlier than expected.
Farhatullah Babar said Mr Zardari had moved to his residence in the city.
He was admitted last week to have treatment for a heart condition, prompting speculation over his health. His Dubai trip led to rumours, denied by officials, that he might resign.
Mr Zardari's office has declined to say when he will return to Pakistan.
A statement said that all tests carried out on him had produced results "within normal range".
It said he had been advised to rest at home - but did not say whether that would be in Pakistan or Dubai, where Mr Zardari's family is known to have property.
Pakistan's civilian government has been under pressure in recent weeks after a scandal over a leaked memo in which officials allegedly sought US help against a possible military coup earlier this year.
President Zardari, 56, denies any role in the memo.
He has been at the helm during a torrid year for Pakistan, which has seen relations with the US deteriorate sharply after the raid which killed al-Qaeda leader Osama Bin Laden.
Since then, several senior US officials have accused Pakistan of backing militant groups that carry out attacks against Western and Afghan troops across the border in Afghanistan.
Pakistan has vehemently denied such allegations.