Kyrgyzstan profile
14 December 2011

From the section

Asia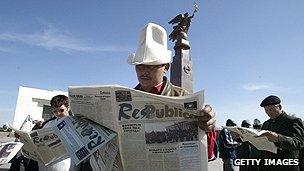 Television is the most-popular medium. There are two state-run networks and more than a dozen private stations. Russian networks are available terrestrially and have a significant audience.
Money is tight for many Kyrgyz broadcasters, and the constraints can impact news coverage. Some stations cannot meet targets for original programming in the Kyrgyz language.
The media in Kyrgyzstan have traditionally enjoyed greater editorial freedom than their regional counterparts. But political tension, polarisation and disorder have undermined media freedom, Reporters Without Borders noted in 2010.
There were 2.2 million internet users by June 2010 (InternetWorldStats). The Kyrgyz blogsphere is lively - estimates suggest that there are more than 2,000 blogs. Some of them use local portals, including kloop.kg.
OpenNet Initiative, a web filtering watchdog, warns of a shift towards a more restrictive internet policy, and the threat posed by political instability. But it says access remains largely unfettered.
The press
Slovo Kyrgyzstana Plus - government-owned, published three times a week
Vecherniy Bishkek - private daily
MSN - private daily
ResPublica - private daily
Litsa - mouthpiece of Ar-Namys Party
Delo No - private weekly
Liberalnaya Gazeta - private weekly
Obshchestvennyy Reyting - private weekly
RIF Obozreniye - private weekly
The Times of Central Asia - Bishkek-based, English-language, regional coverage
Television
Kyrgyz National TV and Radio Broadcasting Corporation - state-run, two networks
Piramida - private, Bishkek
Kyrgyz Public Educational TV (KOORT) - private
Ecological Youth TV (EYTV) - private, Issyk-Kul
Osh TV - private, Osh
Independent Bishkek TV - private, Bishkek
NTS - private, Bishkek
Radio
Kyrgyz National TV and Radio Broadcasting Corporation - state-run, operates Kyrgyz Radio 1 and 21 Vek (21st century) networks
Ekho Bishkeka - private, Bishkek
Almaz - private, Bishkek
Europa Plus - private, Bishkek, Osh
Russkoye Radio - private
Auto Radio - private
News agencies