Kyrgyzstan profile - Media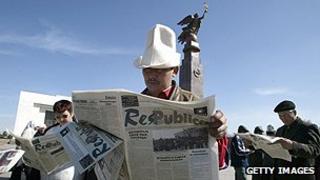 Television is the most popular medium. There are state-run networks and more than a dozen private stations. Russian networks have a significant audience.
State-owned First Channel TV is the government's main media conduit.
There are around two dozen radio stations, most of them privately-owned. Only a handful broadcast nationwide. Four newspapers publish three or four times a week.
The media usually enjoy greater editorial freedoms than their regional counterparts. But journalists often encounter pressure from private media owners or the authorities, says US-based Freedom House.
Internet users make up 24 per cent of the population (Internetlivestats.com, 2014). Mobile phones are used extensively to access the web.
Facebook use is on the rise - the platform is used by around 26 per cent of internet users. Russia's Mail.ru and Odnoklassniki.ru are popular social media platforms.
The press
Television
Kyrgyz National TV and Radio Broadcasting Corporation - state-run, operates four networks including flagship First Channel
EITR (Public TV and Radio) - based in southern city of Osh
Channel Five - private, near-national coverage
Osh TV - private, Osh
NBT (Independent Bishkek TV) - private, Bishkek
NTS (New TV Network) - private, Bishkek
Radio
Kyrgyz National TV and Radio Broadcasting Corporation - state-run
Kyrgyzstan Obondoru (Kyrgyzstan Melody) - leading private station
Europa Plus - private, Bishkek, Osh
Hit FM Bishkek - private
News agencies/internet