North Korea leadership: Kim Jong-un's uncle in TV clue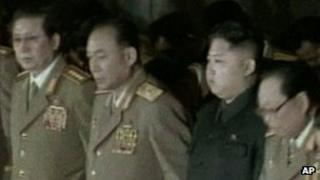 Kim Jong-un's uncle has been pictured standing at the North Korea leader's side in military uniform, suggesting a key position in the hierarchy.
Chang Song-taek had been expected to play a major part in smoothing the transfer of power to Kim Jong-un from his father, Kim Jong-il.
It is believed to be the first picture of Mr Chang in uniform. He has been more closely associated with the party.
North Korea is trying to carry on the world's only Communist family dynasty.
Kim Jong-il, who inherited power from his father in 1994, died last weekend.
His son Kim Jong-un is a political novice, thought to be in his late 20s.
'Military first'
Analysts say senior figures such as Mr Chang will be crucial to making the transition of power successful.
State media has already begun bolstering the role of Kim Jong-un, calling him the "great successor".
Media now also refer to the younger Kim as the supreme commander of the armed forces.
State television footage showed Mr Chang standing at Kim Jong-un's side as he paid respects before Kim Jong-il's body lying in state at Kumsusan Memorial Palace in Pyongyang.
Mr Chang, who is married to Kim Jong-il's sister, was once purged for "re-education".
But in recent years he has been installed in several key roles in the hierarchy.
However, he is normally pictured in business suits and was thought to be a civilian party official rather than a military figure.
North Korea's military is one of the world's biggest, and has more than one million personnel.
Under Kim Jong-il the government followed a "military-first" policy that prioritised the military's role in the country's power structure.
Meanwhile, North Koreans are continuing lavish displays of mourning to Kim Jong-il.
And North Korean state media has renewed attacks on South Korea for apparently blocking its citizens from travelling north to join in the mourning.