Zardari: Pakistan chief justice ignoring Bhutto killing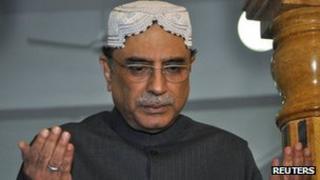 Pakistani President Asif Ali Zardari has accused the country's Chief Justice Iftikhar Chaudhry of failing to investigate the murder of his wife, former prime minister Benazir Bhutto.
He was addressing party supporters on the anniversary of Ms Bhutto's killing.
He pointed to a hearing the Supreme Court has opened over a leaked memo as proof the court has been inconsistent.
The memo allegedly asked the US to help Pakistan's civilian leaders to curb the power of the country's military.
The scandal led to the resignation of Pakistan's ambassador to Washington and has increased tension between the military and the civilian government, threatening Mr Zardari's position.
Charges
Analysts believe some in the army leadership are determined to ease Mr Zardari out of office before the end of his term.
Pressure from the country's chief justice over the memo scandal could prove decisive.
Mr Zardari spoke to supporters at the Bhutto family burial site in Sindh province, in his first public appearance since questions were raised about his health.
He had left for Dubai for medical treatment earlier in the month, returning last week.
Last month two senior police officers and five alleged Taliban militants were charged over Ms Bhutto's death.
However, no one has yet been convicted for her assassination at a rally in Rawalpindi in December 2007.