Robbery suspect arrested at Chinese consulate in Sydney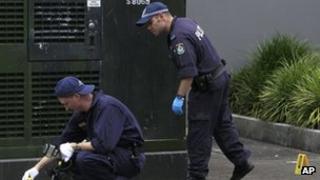 A man suspected of attempting to rob a pub in Sydney was arrested after a six-hour stand-off that saw him flee to the grounds of the nearby Chinese consulate.
Two men allegedly attempted the robbery. One was arrested outside the pub while the other escaped before climbing the fence of the consulate.
Gunfire was exchanged during the pursuit but no one was hit.
Police did not release the names of the suspects.
New South Wales Police Assistant Commissioner Mark Murdoch told the AP news agency that the man's decision to flee to the consulate grounds was random, saying he had no connection with the consulate.
Police secured the area and roads were blocked off during the stand-off.
The man was taken to the hospital for minor injuries, local media report.